Volenti non fit iniuria (Talking about art can be a pain in the ass)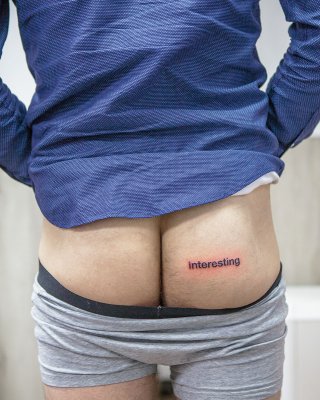 "interesting" set in: Helvetica Neue Medium, 37 pt, Kerning optical, Tracking 1/100 em, both cheeks of my buttock, one empty one tattooed, dimensions (only lettering): 62,2 x 12 mm (2018)
The principle expressed by volenti non fit iniuria is different from that of contrubutory negligence (t), as it is in itself independent of the contract of service or any other contract (u). It does not follow that a man is negligent or imprudent because he chooses to encounter a risk which he knows and appreciates; but, if he does voluntarily run the risk, he cannot complain afterwards (x). At the same time, knowledge is not of itself conclusive. The maxim is volenti – not scienti – non fit iniuria ; "the question wether in any particular case a plaintiff was volens or nolens is a question of fact not of law" (y).

– Sir Frederick Pollock, The Law of Torts: A Treatise on the Principles of Obligations Arising from Civil Wrongs in the Common Law, p. 164.
"So you're an artist, too?"
– "I guess… I'm currently preparing works for an exhibition and I just finished a small piece: It's a urinal with a power socket instead of a drain, so you'd electrocute yourself if you pissed in it. I'm not quite sure if you'd die though. No electrician or doctor was able to answer that. I guess there's not too much data for cases like that. So I named it: *Hoffentlich klappt es heute,* which might be translated as: *Hope it works today.* It's part of a series of work on death and failure."
– "That's… "
– "Ya, for the exhibtion of course there'll be a device allowing everyone to piss while standing. I guess you can't do that without that in 2018."
– "…**interesting!** Did I tell you that I'm an oil painter? I only work large scale of course. I think painting is still the most ambitious endeavour in art today …"
– "Really? That's exciting! I painted, too … once. It's called Actor sequitur forum rei, it's black oil paint on cold wax strips with glitter on top. I guess, I was kind of depressed that day. A girl broke up with me, I'm not sure if that's even the right way to put it. I wonder what she might be up to these days.